Introducing RB Link flights - Royal Brunei's Regional Service within Borneo
Your gateway to Borneo, Brunei and Beyond
Expect the same warm Royal Brunei welcome; connecting you with ease across Borneo and linking 5 new destinations to our global network on a 72 seat all-economy turbo prop aircraft. Operated by Malindo Air.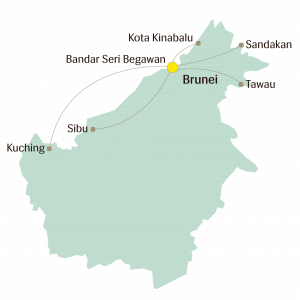 Connecting Guests across Borneo and beyond
Snack Included for longer flights over 1 hour
Muhibah RB's inflight magazine provided
Personal Electronic Devices permitted onboard
Baggage 15kg allowance on flights within Borneo*
*Standard baggage allowance for all international transit travel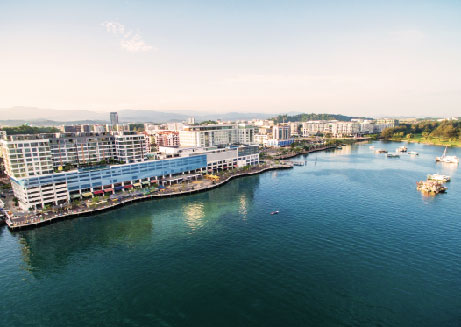 Kota Kinabalu, Malaysia
With splendid shores on one end and a lush, exotic rainforest on another, Kota Kinabalu is a perfect getaway destination. Located on the island of Borneo, the city is home to exciting, bustling markets and numerous breathtaking natural attractions, including Manukan Island, Tanjung Aru, and the National Park that is home to the 4,095m-tall Mount Kinabalu.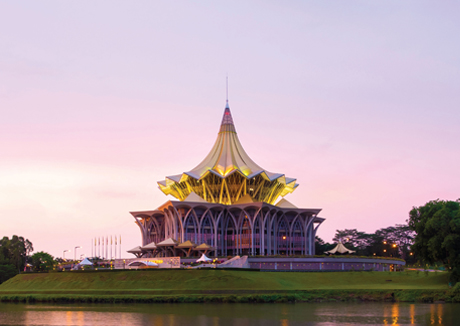 Kuching, Malaysia
The capital of Sarawak, Kuching is the centre of culture, cuisine, heritage and an excellent start to explore Borneo's rich and colourful nature. Stroll down Kuching's lively waterfront overlooking the stunningly iconic Sarawak State Legislative Assembly Building, and hop on a boat and go on a historical journey to Fort Margherita, a hilltop fortress built in 1879 which featured the remarkable story of the white rajahs of Sarawak.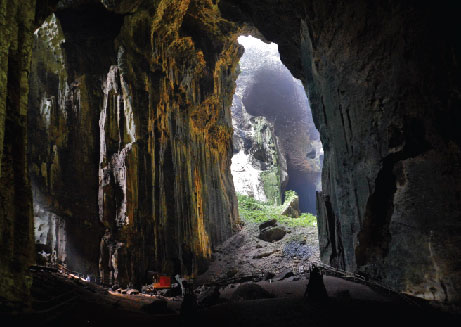 Sandakan, Malaysia
This little city is buzzing with the success of the palm-oil industry and the busy, compact city centre retains little of its former colonial romance. As well as being a gateway to the Sungai Kinabatangan and Sepilok, Sabah's second city is dotted with religious relics, colonial mansions and haunting mementoes of WWII.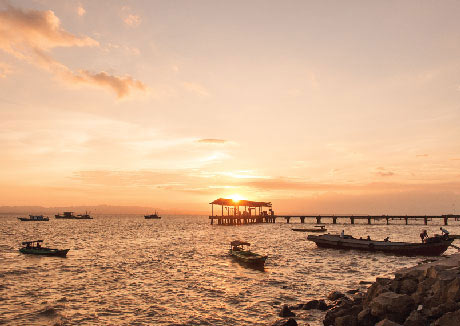 Tawau, Malaysia
Sabah's third city, Tawau, is popular for its dining scene features Sabah's best seafood and if you're flying to and from Tawau to dive Sipadan, it's beautiful place to stay. It's the gateway to the awesome Tawau Hills Park, the launch pad for spotting pygmy elephants on a private plantation and is the starting point for one of the most scenic long-distance drives in Sabah.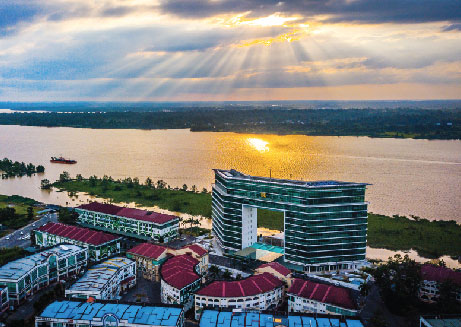 Sibu, Malaysia
Located at the confluence of the Rejang and Igan Rivers, approximately 130 km from the South China Sea, Sibu is a thriving modern town with a vibrant centre and a bustling, crowded waterfront. There is still something of the pioneer style about the town, and its people are direct, plain-speaking and assertively friendly.  Of course, their smiles may be partly due to the belief that Sibu has more millionaires per capita than any other city in Borneo.