Royal Brunei Airlines Officially Receives Skytrax 4-Star Award
24 September 2019, 4:40 PM
We are delighted to share that Royal Brunei Airlines (RB) officially received the Skytrax 4-Star Airline Rating Award from the United Kingdom-based leading international air transport rating organization on 23rd September.
The award was presented to RB's Chief Executive Officer (CEO), Mr Karam Chand, by Skytrax CEO, Mr Edward Plaisted, during a handover ceremony held at the Indera Kayangan Ballroom, The Empire Hotel and Country Club.
Present as the guest of honour was Yang Berhormat Dato Seri Setia Dr Awang Hj Mohd Amin Liew bin Abdullah, Minister at the Prime Minister's Office and Minister of Finance and Economy II and Chairman of RB Board of Directors; RB Board Members, and RB staff from Brunei and Outstation Offices to celebrate the momentous achievement.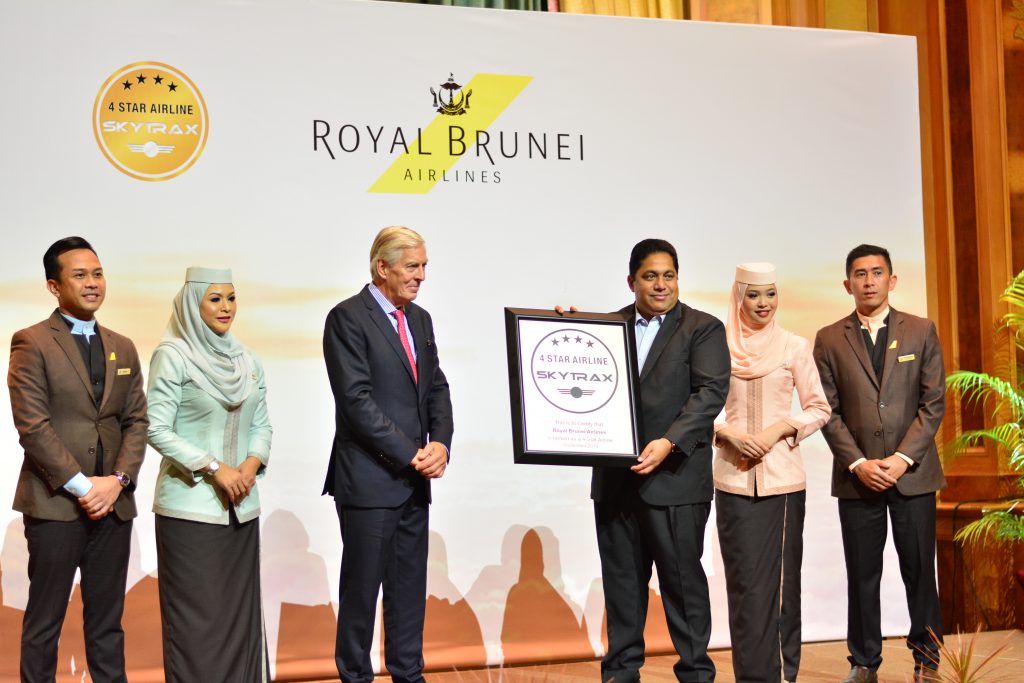 Mr Chand, RB's CEO said: "We are deeply honoured to be awarded 4- star rating from Skytrax after every aspect of our services and products were audited by experienced airline Auditors using international benchmarks covering some 900 key assessment items. Skytrax rating is a global benchmark of airline rating and widely recognised by the travel trade, competitors and customers across the world. With this rating RB has joined an exclusive list of 4-Star airlines in the world and as one of the smallest airlines to achieve this global feat. This achievement marks a special milestone which ranks fairly high amongst the many accomplishments of the National Airline. Globally, RB is already a well-respected full service airline, known for our customer service, on time performance and value for money. The 4-star rating is a seal of approval on the quality of our products and services."
"RB's transformation journey started few years ago and included the development of our products, services, network, infrastructure and equally importantly our people. The implementation of these initiatives has made a significant impact on the way we operate, our brand positioning and peer recognition. As a boutique airline we will continue to innovate and have the service focus as point of differentiation and create a long term competitive advantage."
"I would like to extend the Board's and my sincerest thanks to all our Team members both in Brunei and our stations worldwide for your valuable contributions and great teamwork, expertise and dedication to strategically position RB as a globally competitive airline. This and many other achievements over the last few years truly reflect the spirit of RB and her people and our strong desire to help achieve the National objectives with an enhanced connectivity, and an enabler of growth in tourism and trade and to be Brunei's international brand ambassador on a daily basis," added Mr Chand.
Mr Edward Plaisted, Skytrax CEO, said: "This 4-star airline rating for Royal Brunei Airlines is a great achievement that recognizes the many improvements that the airline has introduced over the last 2 years. Gaining the 4-star airline certification has come through with the development and enhancement of front-line staff service – this across both airport service areas and of course the airline's cabin crew. The introduction of new aircraft and cabin products have naturally played an important part in this quality improvement process, but it is the many different areas of staff service that form the final judgement for the Star Rating, and I congratulate Royal Brunei for the many changes achieved."
At the recent Skytrax Top 100 airlines in the world yearly ranking, RB is placed at the 66th position from its 95th ranking in 2016. RB was also named as one of the top 5 most improved airlines and not long ago as one of the top 10 most loved airline in the world. Over the period, the national flag carrier has embarked on a strategic growth journey where it introduced more direct flights to a number of key destinations. RB now has operates to 25 international destinations from its hub at Brunei International Airport and soon to 32 cities including direct flights to Beijing Daxing International Airport on 27th October 2019 and 5 newly introduced RB Link cities within the island of Borneo.