Royal Brunei Airlines Recruits over 60 Bruneian cabin crew
27 November 2018, 6:32 PM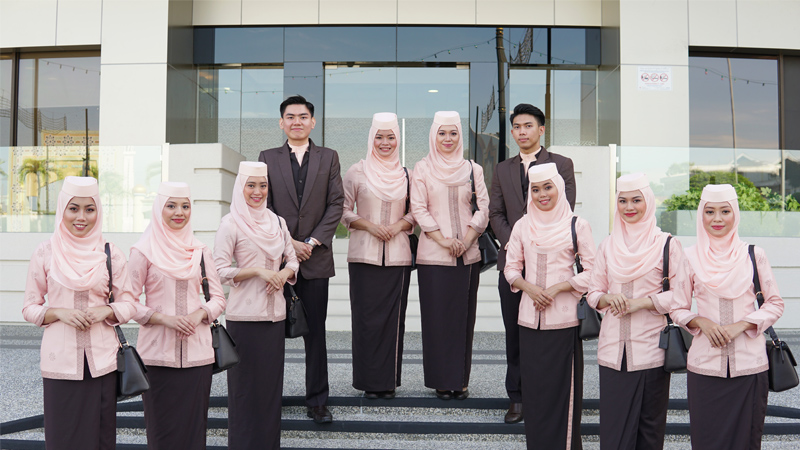 Royal Brunei Airlines (RB) marks another significant milestone with the recruitment of over 60 Bruneian nationals to fill in the cabin crew roles as of 2018, the largest number of cabin crew recruitment since its incorporation in 1974.
The recruitment was completed in three batches to ensure best training was offered to our frontliners in terms of guest service delivery and mandatory safety training. 79% of crew employed by the national carrier are Bruneians of various educational backgrounds ranging from diplomas to graduates and the new recruitment will make this 96%. The recent network expansion to destinations such as Haikou and soon Taipei, Chengdu, Changsha, Kuching and Tokyo has enabled the airline to increase its cabin crew workforce.
"Royal Brunei aims to achieve the Skytrax 4-star rating soon and a key part to achieving this important milestone is service delivery from our frontliners including our cabin crew," said RB's Chief People & Performance Officer, Mr Kurt Harding. "RB has a commitment to build a unique guest experience that will continuously exceed guest expectations and one that reflects the Bruneian hospitality. As the national carrier of Brunei, RB always wants to be an employer of choice to local jobseekers as well as lead the training and development of its people through pioneering programs" he added.
RB continues to support the country's mission by working together with Job Centre Brunei (JCB) and using it as a platform to acquire locals into the workforce. The opportunity for career progression is also available for cabin crew interested in building and expanding their knowledge and skills within the airline industry.
This year has been an exciting one for RB with significant milestones achieved in route and tourism development. It is also a big year for RB's cabin crew as they have led the airline to achieve awards such as the 2018 TripAdvisor Traveller's Choice for Economy Class, TripAdvisor Traveller's Choice for Regional Airlines and moving 14 ranks up to being 78th best in the world on the Skytrax ranking.
About Royal Brunei Airlines (RB):
Royal Brunei currently operates a fleet of fourteen aircraft comprising of five Boeing 787-8 Dreamliner aircraft together with seven Airbus A320NEO aircraft and two Airbus A320 CEO Aircraft. RB now operates one of the youngest fleet in the world with an average fleet age of two years.
In 2018, RB received the APEX Official Airline Ratings™ Four-Star Award and as winners of TripAdvisor Travellers' Choice Economy Class – Asia and Travellers' Choice Regional Airlines – Asia. In the recent Skytrax airline rating RB moved up fourteen places to be at number 78 (from 92) in the top 100 airlines in the world.