Introducing our new Guest Charter for all guests flying with us
The health and safety of our guests and employees is of paramount importance to Royal Brunei Airlines. Working in partnership with stakeholders and governments we adhere to all guidance and policies in the countries we serve. This charter shares our approach for enhanced and precautionary measures for peace of mind and to help keep you safe when you travel with us.
✓ Peace of mind policies including waiving rebooking fees*. Applies to guests on affected flights only.
✓ Royal Skies loyalty membership tiers extended for an additional year to 31 January 2023 and no mileage expiry until 31 January 2023
✓ Before every flight, our cabin crew and pilots have their temperatures taken
✓ Check-in counters and priority boarding areas cleaned frequently throughout the day
✓ Hand sanitisers are provided at key checkpoints
✓ RB airport service teams wearing masks and gloves when working with guests
✓ Clear and understood employee guidelines regarding wellbeing and not reporting for work in the event of illness
As per the updated regulations by Brunei government, effective 15 September 2022, use of face mask onboard RB flights is no longer mandatory with the following exception:
✓ for guests travelling to a country/destination where face mask is required, and/or
✓ for guests exhibiting symptoms of an infection.
As Brunei travel requirements may change at short notice, please refer to the latest travel advisory issued by the Brunei government and Prime Minister's Office before your departure. If the information differs from our travel advisory, it is recommended that you follow the official guidance from Prime Minister's Office, as we may still be processing the latest regulatory changes.
✓ Thorough cleaning and disinfecting processes which include cabin cleaning and wipe down of all tables, seat trims and inflight entertainment screens together with headsets. Please view our demonstration video here.
✓ Special aircraft manufacturer-approved chemical disinfectant is used on hard surfaces of the aircraft such as the arm rests, chair, table trays, galleys and toilets.
✓ All headsets (used and unused) are removed after every flight
✓ Pillows and blankets on all flights will only be available upon request.
✓ On board disinfectant sprays, masks and hand sanitizers are available
✓ All aircraft are equipped with High Efficiency Particulate Air (HEPA) filters with similar performance to those used in hospital operation theatres. The cabin air is refreshed continuously through a control air conditioning and pressurization system and filters are replaced frequently
✓ Temporary suspension of the acceptance of special meal requests in some departure cities.
✓ All crew wearing masks and gloves. Full PPE to be worn for identified countries
✓ Revised onboard announcement explaining processes and procedures
Additional Guidelines
✓ Please be aware our policy requires all guests to bring and wear their own protective masks when boarding, in the aircraft cabin and disembarking effective from 12 May 2020. We recommend masks are worn at check-in, if transiting and when collecting baggage – this may be subject to individual airport regulations.
✓ Respect the personal space of others and observe social distancing guidelines
✓ Do not travel if you feel unwell or show any intermittent symptoms of fever, cough or breathlessness in order to prevent the risk of being denied boarding
✓ Frequent hand washing and high levels of personal hygiene
✓ All guests are encouraged to travel with minimal cabin baggage
✓ Check government guidance and our dedicated COVID-19 Information Hub for the latest Brunei government information for travelling from or into Brunei.
✓ View IATA's precautionary guidelines travelers can take to fly safe here.
The aviation industry, with the guidance of the International Air Transport Association (IATA), International Civil Aviation Organization (ICAO) and other relevant governing bodies, have made significant improvements to how we travel to restore confidence in travel amidst the COVID-19 pandemic.
Here are some changes to air travel so you can #flysafe from our industry experts
Physical Distancing and Limiting face-to-face interactions
Practicing physical distancing at the airport, in the aircraft, at arrival and wherever possible, and limiting face-to-face interactions are precautions all travelers should take to protect yourself and others.
Wearing of masks and face coverings
International Air Transport Association (IATA) and the World Health Organization (WHO) recommends mandatory wearing of masks or face coverings for guests and crew as one of several actions to reduce the already low risk of contracting COVID-19 onboard an aircraft.
A study by the University of Edinburgh found that wearing a mask or face covering limits the forward spread by an exhaled breath and its droplets by more than 90% when breathing, coughing or sneezing.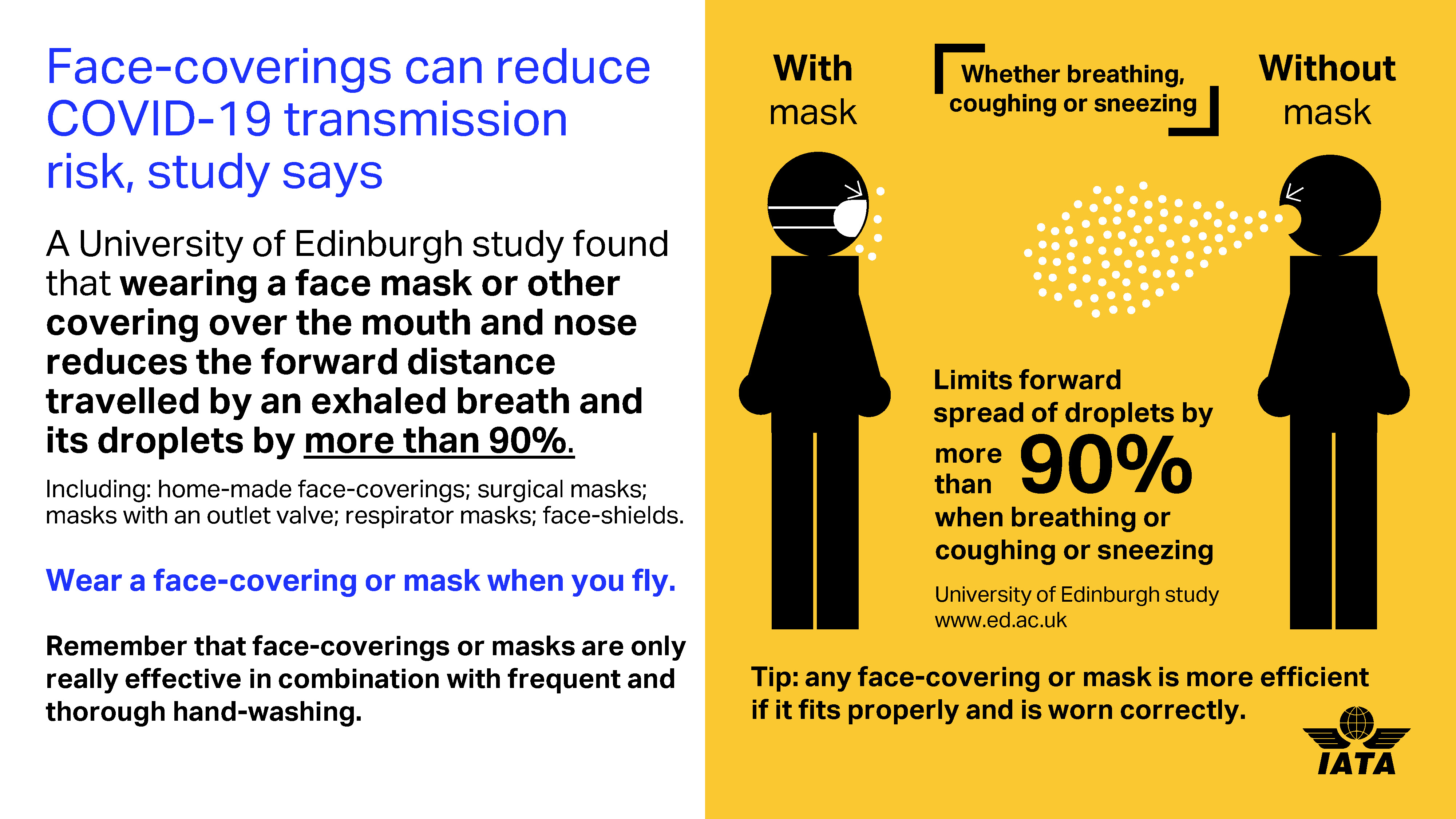 Mitigating transmission onboard
Clean air onboard with High Efficiency Particular Air (HEPA) filters
All our aircrafts are fitted with cabin air filtration systems with high efficiency particulate air (HEPA) filters similar to those used in hospital operating theatres and industrial clean rooms.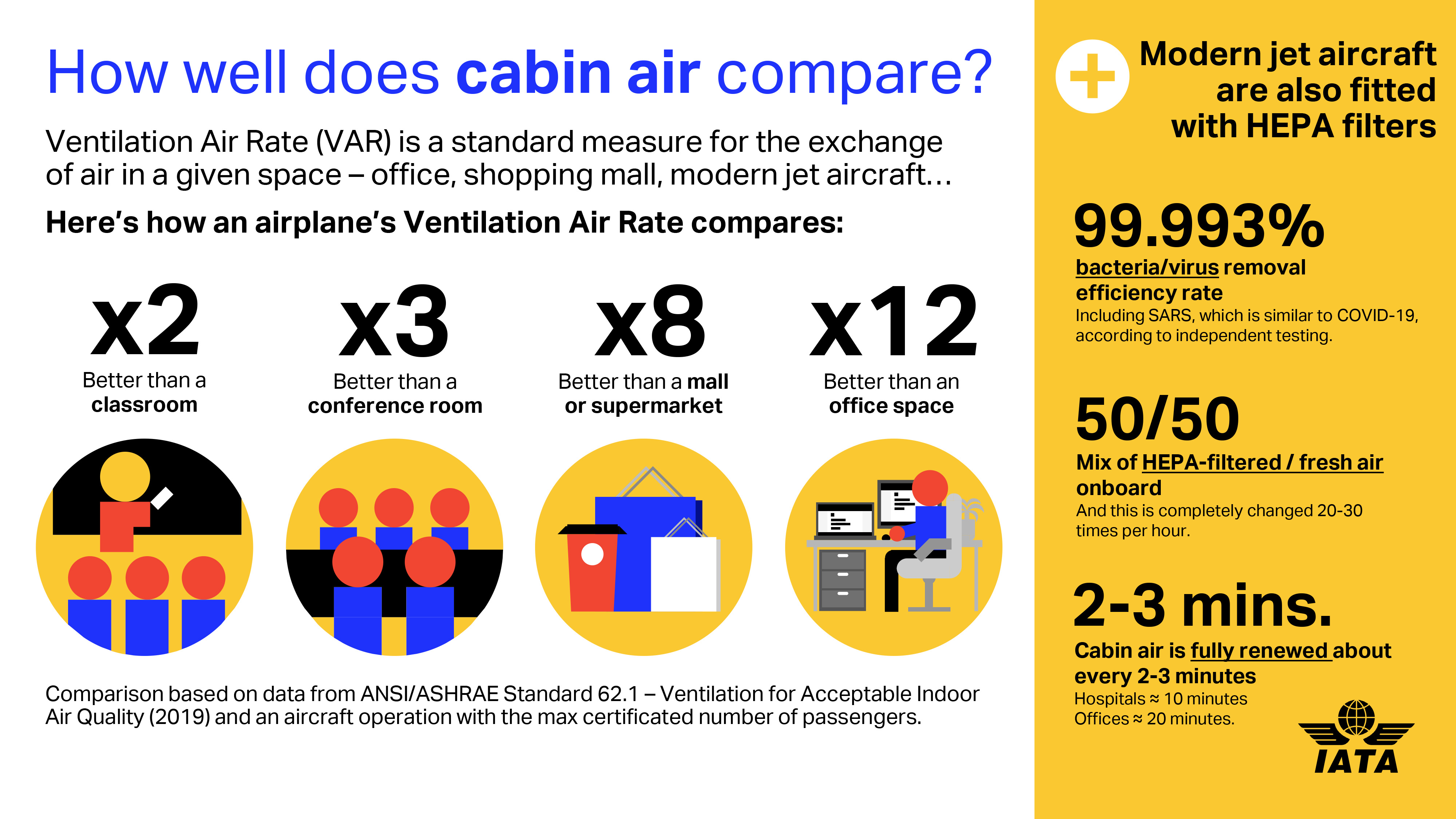 There are some default measures already in place, for example: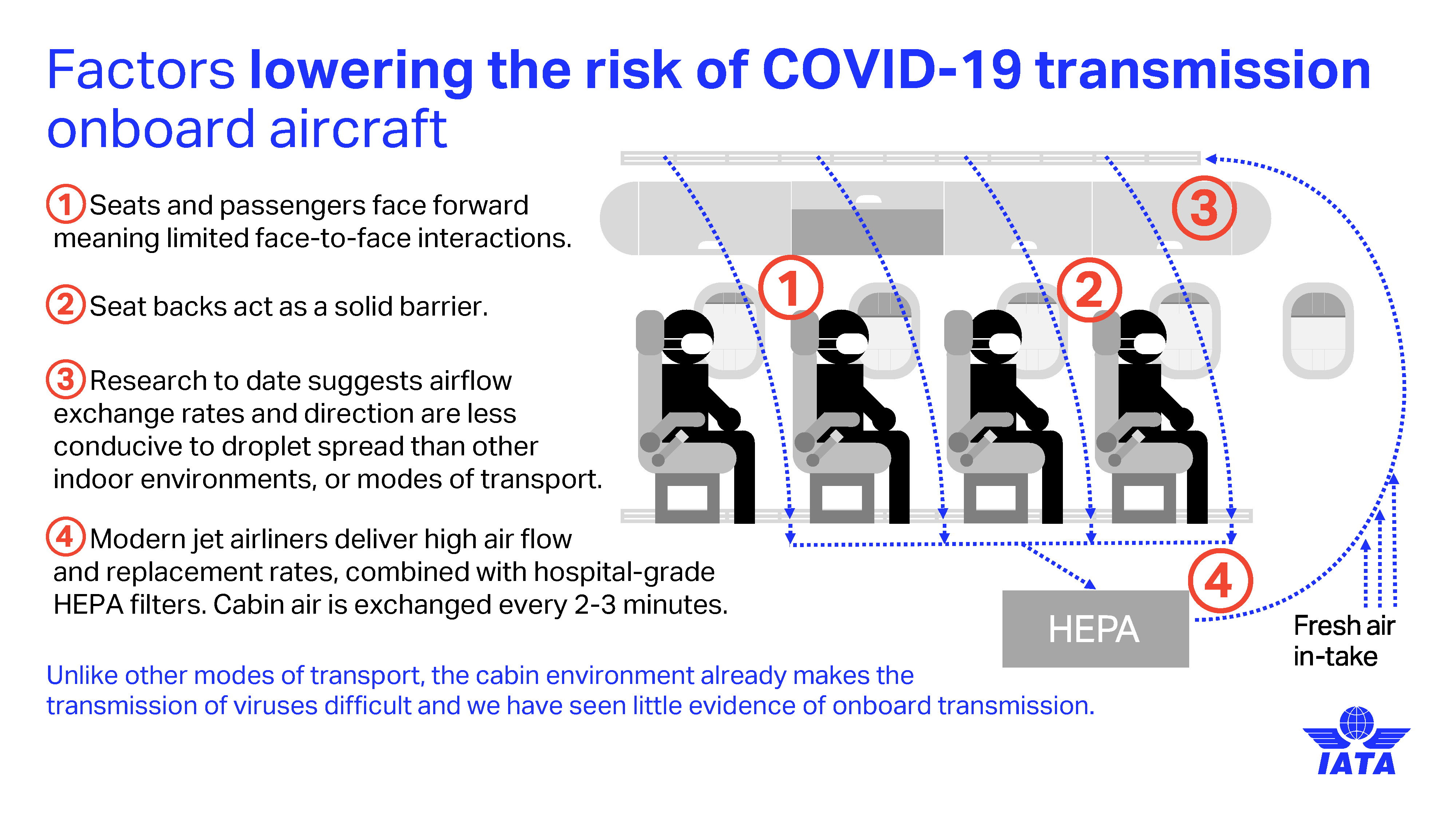 IATA does not recommend restricting the use of middle seats onboard to create physical distancing. The additional measures in place makes this unnecessary.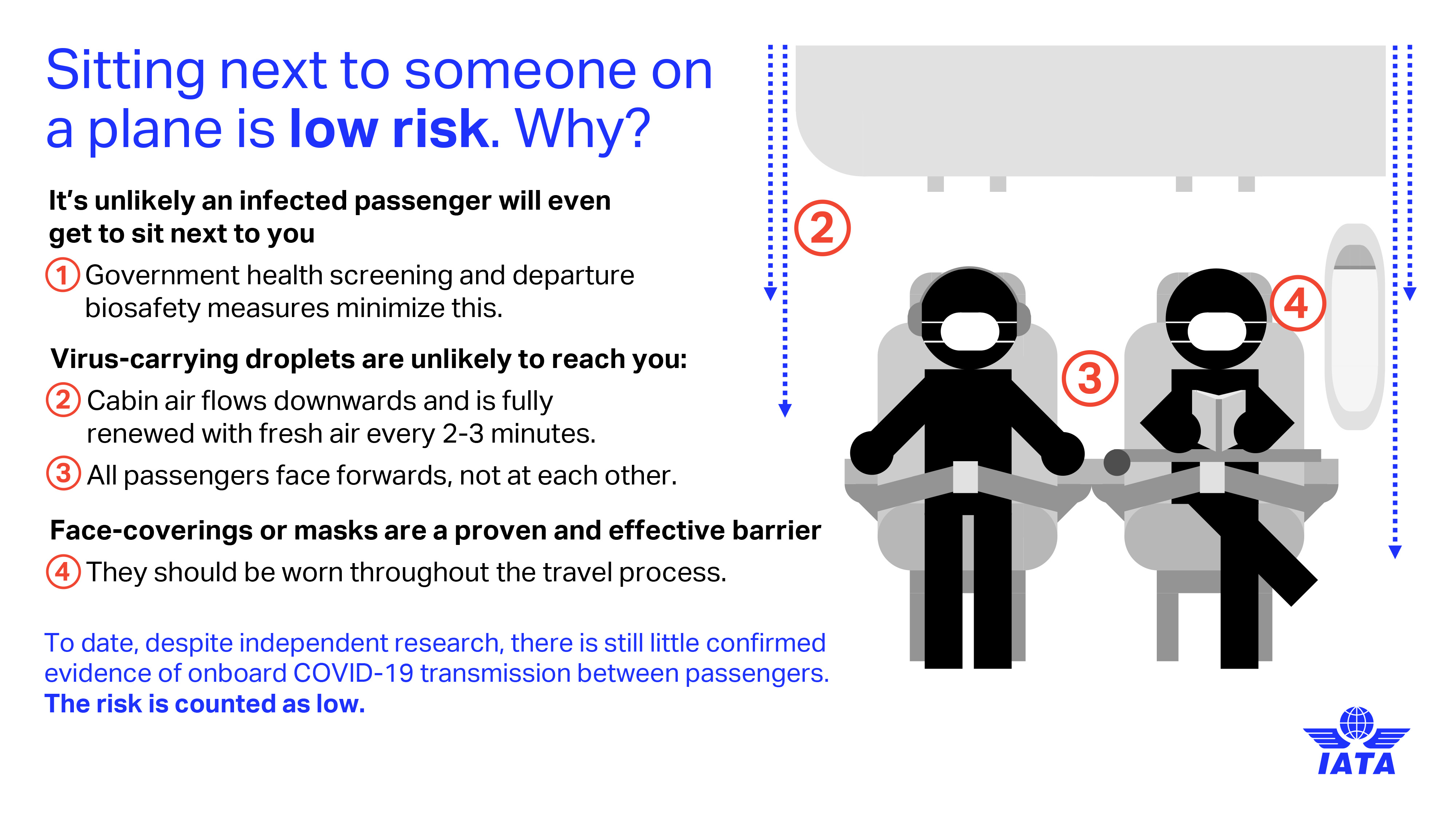 On top of that, airlines have implemented additional measures onboard like:
Mandatory wearing of masks and gloves for flight crew
Simplifying inflight meal procedures that lower flight crew movement and interaction with guests onboard.
Limiting guests movement within the cabin during the flight
Deep cleaning of our facilities and aircrafts
Thorough cleaning and disinfecting processes which include cabin cleaning and wipe down of all tables, seat trims and in-flight entertainment screens together with headsets, following the guidance of IATA.